To setup nutrient constraint for optimal cost.
1. ADD NUTRIENT SPECIFICATION
1.1 On Formulator view touch on "+" to choose Nutrient Specs into recipe.


1.2 Choose nutrients spec from the list.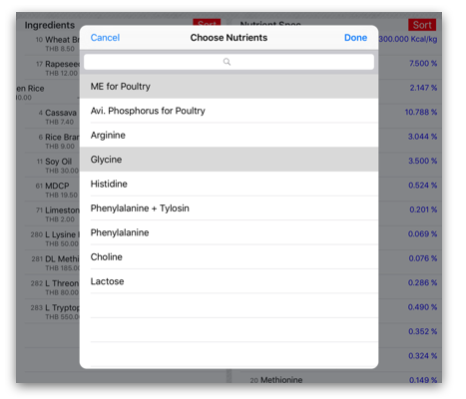 2. SPECIFY NUTRIENTS SPECIFICATION CONSTRAINT
2.1 To specify constraint for each nutrient you can touch on nutrient row to input data describe as follow:
2.1.1 Min – lower bound of nutrient spec.
Example, Setting Min ME for Swine = 3,300 Kcal/kg
then ME for Swine is not lower than 3,300 Kcal/kg
2.1.2 Max – upper bound of nutrient spec.
Example, Setting Max Salt = 0.15%
then Salt is not over than 0.15%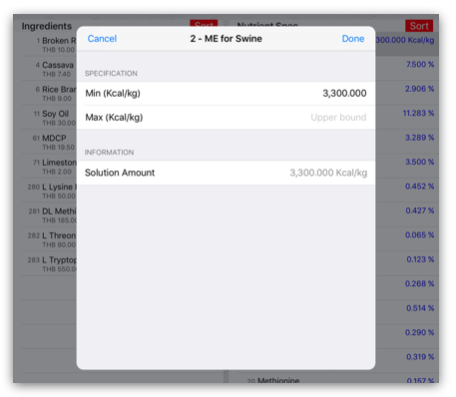 2.2 Then touch on Done to save.
2.3 Touch on Optimize to calculate, if all constraint are feasible the status will show FEASIBLE.
3. DELETE NUTRIENT SPECIFICATION
3.1 Slide-left on nutrient spec row to delete item, Then touch Optimize to re-calculate.